The Parents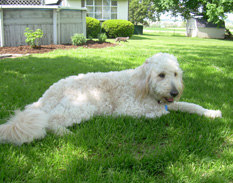 Rosie (Mother) – Retired
Rosie was born in January 2010.  She had her first litter on May 25,  2011.  She had 8 very nice puppies.  Three of the families that bought a puppy out of her first litter had a child with an allergy to dogs.  They did not have a reaction to Rosie's puppies.  Rosie weighs around 60 lbs and is cream colored. She is an F1 Goldendoodle.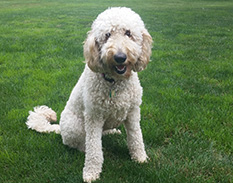 Daisy (Mother)
Daisy is a daughter of Rosie. She was born November 2014. She is a beautiful F1B Goldendoodle. She weighs around 65 pounds. She is very friendly and loves all the love and attention you give her. She is good with children and enjoys being around other animals. She had her first litter in August 2016. She is a great momma just like Rosie! She loved her puppies and did a great job raising them.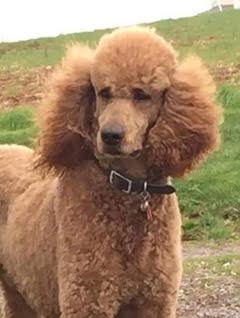 Fiero (Father)
We could not ask for a friendlier or more loving guy. Fiero is quiet and reserved, but looks for any opportunity to snuggle up and love on the nearest person. His favorite thing is long walks around the farm. When he isn't loving on someone or out walking he loves to sit and observe what's going on around him with his front feet crossed contently in front of him.