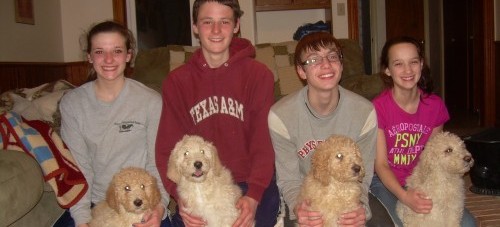 Family Raised Goldendoodles
We are located in New Holland, Pennsylvania, and our goal is to have healthy, friendly and happy goldendoodles. Our goldendoodles are F1B, low shedding and allergy friendly. We enjoy our goldendoodle, Rosie, and she lives in our home with us. She was very easily housebroken and has become an enjoyable part of our family.  Rosie had a litter of 6 puppies on May 25, 2016. Call and reserve your puppy today.
What is a Goldendoodle?
A mixed-breed dog, a Goldendoodle is a cross between a Golden Retriever and a Poodle. As a result of their lineage, they are a very intelligent breed. Usually bred to be a family dog, some are bred and selected for careers in service to humans, as Guide Dogs, therapy dogs and other types of assistance dogs.
Buy a Puppy
Interested in buying a Goldendoodle?
Our Goldendoodle's are family raised, and child friendly. They receive personal care and attention right from birth.

Contact Us

Have a question? Looking for a puppy?
Send us an email, or give us a call, to learn more about the dogs we raise.